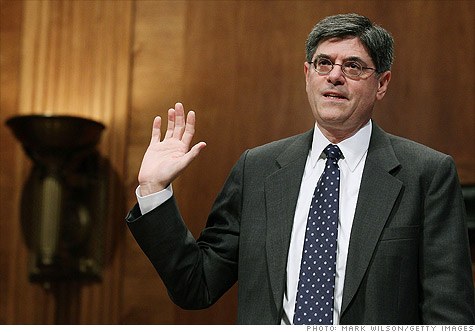 By Peter Schroeder and Jonathan Easley
The Hill, February, 13, 2013
Republicans are set to press Treasury Secretary nominee Jack Lew about his tenure at Citigroup — and a controversial Cayman Islands investment — during a confirmation hearing Wednesday before the Senate Finance Committee.
But the effort appears aimed more at embarrassing the White House than derailing Lew's confirmation.
"You'll have to wait until after the hearing and see what happens at the hearings, but as of right now, I would expect him to be confirmed," said Sen. Orrin Hatch (R-Utah), the committee's ranking member.
Hatch left the door open to voting for Lew, saying the final decision would come after the hearing. When asked if he would oppose Lew, Hatch said, "No … but I'll wait until after the hearings and make those determinations later."
After two stints as budget chief under two separate presidents, Lew's record on budgetary matters is well-known.
But Lew's brief stint at Citigroup — which required billions in bailout funds during the financial crisis — has become a point of contention among Republicans.
GOP senators have raised concerns about a $56,000 offshore investment in the Cayman Islands that Lew had while at the bank.
Democrats have been largely dismissive of the charge, while Republicans have indicated they planned to use the controversial investment more as fodder for bashing the White House than as a major roadblock to Lew's nomination.
The investment was in a fund housed in the infamous Ugland House, a single building that has played host to thousands of corporate entities and had been singled out by President Obama for criticism in the past.
Lew sold the investment at a loss when he returned to public service.
Hatch indicated that Republicans saw the investment as a chance to call the White House out for hypocrisy, noting that Obama had blasted Republican presidential nominee Mitt Romney during the 2012 campaign for his offshore investments.
"They're a concern, but keep in mind it just shows the hypocrisy," Hatch said.
"[Lew's investments] were legal just like Romney's … I think some people would say there's a hypocrisy involved here, but as far as I'm concerned there's nothing in the code that would've said it was illegal or wrong."
The White House has argued the investment is nothing new and was disclosed when Lew was previously considered by the Senate to become Obama's Office of Management and Budget director in 2010. He was cleared by voice vote.
But Republicans contend that his time as an executive at Citigroup, while former President George W. Bush was in office, merits fresh scrutiny, given the expanded responsibilities Lew would face as head of the Treasury. Sen. Pat Toomey (R-Pa.), a new Finance member and former bond trader, said he wanted to question Lew on a range of regulatory issues, given his sparse record on financial matters.
He would not say how he planned to vote on Lew.
"I want to explore some of the obvious areas. There's some regulatory issues," he said.
If confirmed as Treasury secretary, Lew will inherit a broad portfolio of issues outside of fiscal matters.
They include the continued implementation of the Dodd-Frank financial reform law, efforts to remake the housing finance system and challenges pertaining to foreign currency.
His predecessor, Timothy Geithner, spent his career immersed in such market matters, but Lew is an unknown commodity.
Several Democrats have publicly aligned themselves with Lew, while few Republicans have vocally opposed him.
Sen. Bernie Sanders (I-Vt.) has said he expects Lew will be confirmed but plans to vote against him, citing his Wall Street experience.
Sen. Ben Cardin (D-Md.), who says he "fully supports" Lew's nomination, told The Hill that the Citigroup investment doesn't warrant further scrutiny, citing his previous runs through the confirmation process.
"Jack Lew has a rich background in public service. … He's gone through confirmation hearings, so he's already been scrutinized and scrutinized," Cardin said.
"There's nothing in his private-sector employment that causes any concern about his integrity and his commitment to issues that I think, as secretary of Treasury, he'll handle well."
Cardin also argued that Lew's Wall Street ties would be an asset to him as point man for defending Dodd-Frank.
"I'm all for people having worldly experience," Cardin said. "The fact that there was a break in his service where he served in the private sector to me is a plus."
But some Democrats are also looking forward to hearing from Lew before confirmation.
Sen. Sherrod Brown (D-Ohio), who released a statement last month saying Lew is "clearly qualified" for the job, isn't making a commitment until after the hearing.
But he agreed with Cardin that Lew's time at Citigroup is old news.
"I generally believe the president should get who he wants if he's qualified," Brown told The Hill. "But I want to ask him some questions."
Brown has been one of the most vocal Senate Democrats on the need for further bank reforms to eliminate "too big to fail" institutions. He said ensuring Lew was committed to implementing Dodd-Frank is a priority.
"I think that Treasury is a lot of things, but one of them is pushing harder on these rules and regulations and understanding that finance is too large a segment of our GDP," Brown said.
Even Sen. Jeff Sessions (R-Ala.), the ranking member of the Budget Committee, who vowed earlier that Lew "must never be secretary of Treasury," said he was unaware of any united Republican effort to hold up the confirmation.
But Sessions continued to question Lew's qualifications. "I don't see why anyone would think that he should be promoted to the top financial position in America."