Below are three commentaries on what the shrinking GDP in the last quarter means.  Time will tell as to whether this is the beginning of a double-dip recession.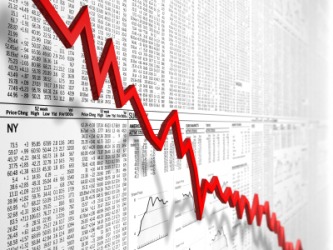 US GDP—On the Road to Double Dip?'
By Dr. Jack Rasmus
January 30, 2013
US GDP data released on January 30, 2013 for the fourth quarter 2012 showed a decline in GDP of -0.1% for the last three months of 2012, thus raising the specter of the US economy, facing still further deficit spending cuts in 2013 amidst declining consumer confidence, may be on track for a possible double dip recession in 2013 or 2014 along with other economies in Europe, the UK, and Japan.
In the fourth quarter GDP numbers, government and business inventory spending led the decline.  To the extent consumer spending played a positive role at all in the 4th quarter, it was largely driven by auto sales—stimulated by auto dealers offering buyers deep price discounts, virtually free credit with near 0% auto loan interest rates, as well new auto purchases in the northeast as a result of Hurricane Sandy's destruction of existing auto stock.  2012 Holiday season retail sales data, in contrast, were otherwise not particularly notable and would have been much worse without the auto sales exception.  How much longer auto companies can continue the deep price discounts and free credit remains a question going forward.  Net export sales continued to sag in the last quarter, as the slowdown in world manufacturing and trade continued.   And, as others have noted, an important source of past consumer spending and GDP growth—i.e. health care services—began to slow ominously at the end of 2012 as well, promising to continue that trend into 2013.
This weak scenario in the fourth quarter 2012, and the virtual absolute stop to US economic growth, was predicted on this writer's and other public blogs in a piece entitled "US 3rd Quarter GDP: Short Term Myopia vs. Long Term Realities" last October 2012 (see jackrasmus.com, as well as in this writer's April 2012 book, 'Obama's Economy: Recovery for the Few').
Last October 2012, it was noted that the 3% growth rate in the preceding 3rd quarter, July-September 2012, period was artificially produced by record levels of one-quarter federal defense spending accounting for more than one third of total GDP growth in the quarter.  That government spending surge was preceded by more than two years of federal government spending reductions, and thus the third quarter defense-government spending acceleration represented previously held back government spending, to be released right before the November 2012 elections.  It was predicted in the above blog commentary on GDP 3rd quarter results that government spending therefore would decline sharply in the following fourth quarter—which it did.  It was further noted business inventory spending was on a track to decline as well in the fourth quarter, and that US net exports, having turned negative in the third quarter, would continue to decline in the fourth quarter—all of which also occurred in the latest GDP report.  The true US GDP growth trend for July-September was therefore not the 3% reported, but only around 1-1.5% for the third quarter when the appropriated adjustments are made.  And that 1.5% or so been the average GDP rate for more than two years.  Then the bottomed dropped out in the fourth quarter, as GDP collapsed to -0.1%.
So what's going on? Is the fourth quarter GDP an aberration? A temporary one time event? Or a harbinger of a still further slowing US economy, moving more in line with global economic trends indicating a slow but steady further slowdown?
In the first quarter 2013, a number of negative developments in the fourth quarter will likely continue, along with new negative developments, together suggesting the first quarter 2013 GDP will at best look much like the fourth quarter—and could even prove worse.
First, more than $100 billion has been taken out of the economy with the end of the payroll tax cut last January 1.  Second, consumer sentiment and spending is showing a definite sharp decline in the early months of 2013.  Deficit cutting will intensify with a deal on the 'sequestered' $1.2 trillion agreement that will occur in March in Congress.  Defense spending cuts projected will be reduced, but non-defense spending will occur and perhaps even rise. Consumer spending on autos, which has been a plus in 2012, cannot continue at the prior pace. Health care spending will likely continue to slow, as health insurance premiums of 10-20% continue to be imposed in the new year by price gouging health insurance companies looking to maximize their returns in 2013 in anticipation of Obamacare taking effect in 2014. Business spending that occurred in the fourth quarter to take advantage of tax laws will almost certainly slow in the first quarter.  Industrial production and manufacturing will add little, if anything, to the economy and housing will contribute to growth through apartment construction only. In short, the scenario is one of continued very slow growth.
It is not the deficit that faces a 'cliff'; it is the US economy.  As this writer has repeatedly written since last November, the 'fiscal cliff' was mostly an economic farce.  Real forces were further slowing the real US economy.  Those real forces are once again reasserting themselves.  However, should Congress proceed with continued deep spending cuts in 2013, should the Euro economies, UK, and Japan continue to weaken, and should China-India-Brazil not succeed in reversing their economic slowdowns significantly—then the odds of a double dip in the US will rise still further in 2013-14, as this writer has repeatedly predicted.
The strategic question is 'Why is the US economy so fragile and weak? Why has it been unable to generate a sustained economic recovery from 'Epic' recession since 2009? Why now, after five years since the onset of recession in late 2007, has the US economy stagnating and collapsed to virtually zero growth, once again?
The answers to this are not all that difficult to understand.  First, despite $13 trillion in free, no interest money given to banks, investors, and speculators by the US federal reserve for five years now, the banks still continue to dribble out lending to small-medium US businesses. No loans mean no investment mean no hiring mean no income growth for consumption, which is 70% of the economy.  Similarly, large non-bank corporations continue to sit on more than $2 trillion in cash. Like the banks, they too refuse largely to invest in the US to create jobs, preferring hold the cash, or use it to buyback stock and pay shareholders more dividends, to invest it offshore, or to invest it in speculating with financial instruments like derivatives, foreign exchange, commodities futures, and the like.
At the same time, the bottom 80% of households, more than 110 million, are confronted with 5 years now of continuing real disposable income stagnation or decline. This income stagnation and decline translates into insufficient income to stimulate consumption spending, which makes up 71% of the US economy.   What spending exists is fundamentally credit driven, not income driven.  Thus car loans, student loans, credit cards, and installment loans rise and with it household 'debt'.
The problem with the US economy therefore is fundamentally twofold: not only insufficient income but growing household debt. Together they result in consumption becoming  increasingly 'fragile' (an income to debt ratio term), and therefore unable to play its historic role of generating a sustained economic recovery.  Together, fiscal-monetary policies are rendered increasingly 'inelastic' in generating recovery as 'multipliers' collapse—to use economic jargon. The outcome of all this is 'stop go' recoveries, bumping along the bottom, or what this writer has called an 'epic' recession.
As Predicted, Austerity Policies Send US Economy Downward
As if the lessons of recent European policies weren't enough or a century of proven economics, the US trudges towards stagnation and financial pain… by choice
Progressives economists who spent much of the last four years warning against the implementation of austerity policies in the US did not share in the surprise expressed by many lawmakers and mainstream pundits when new GDP data released Wednesday showed Q4 growth trending the economy back towards official recession.
No amount of evidence, advice or warning seems capable of moving lawmakers, including President Obama, away from the economic madness of austerity. (Photo: file)
As warned by experts not cowed by the "deficit hawk" alarmists who dominate the national conversation on the economy, the dip in growth was not the result of "uncertainty" in the private sector or the future demands of public spending obligations, but rather on the contraction of public spending and the tax increases prematurely foisted on low-income and middle class workers in the form of a payroll tax increase that took effect on January 1.
As Washington Post policy analyst Ezra Klein writes: "The government is hurting the recovery, and badly. But it's not because it's spending too much, or because of concerns over future policy. It's because government, at all levels, is spending and investing too little."
And as Robert Borosage, from the Campaign for America's Future, told the Huffington Post: "Inflicting austerity on a weak economy is ruinous and is likely to drive us back into a recession."
"Those dismissing the downturn as due to an odd drop in government spending should consider that more of these are on the docket," Borosage continued, making reference to further government spending cuts, known as 'sequestration,' that will likely be implemented in March.
And, "It's certainly the case that the disappearance of the payroll tax holiday is a drag on the economy," said Chad Stone of the Center on Budget and Policy Priorities.
Meanwhile, Josh Bivens and Nicholas Finio—analysts at the progressive Economic Policy Institute—said the new GDP numbers were disappointing, but argued the economy wasn't likely to teeter back into full recession. The essential lesson, they said of the report, was an easy and long-established one: when government spending contracts, so does a struggling economy.
"When government spending drops, the economy suffers," they said. "The rest of the economy is simply not growing strong enough to make up for losses in demand due to government spending cuts."
"Wednesday's GDP report, while overstating the current weakness in the economy, clearly illustrates what economists have known since the 1930s: Government fiscal contraction during periods of excess capacity—particularly when interest rates are already near-zero—is exactly the wrong thing to do."
And the Huffington Post adds:
Congress is still driving headlong into the forced austerity known as sequestration, scheduled to take effect in March, which requires across-the-board spending cuts at the Pentagon and among domestic policy programs.

"Today's GDP numbers show the toll that political conflict over fiscal policy is taking on U.S. economic growth," said Adam Hersh, an economist at the Center for American Progress, a think tank closely allied with the Obama administration. "The 0.1 percent economic contraction puts the United States on the precipice of recession. Our economy would certainly have grown at a faster rate last quarter, were it not for political brinkmanship over the debt ceiling and the risk of sharp fiscal contraction in the form of automatic 'sequestration' budget cuts. That contraction is now unfolding."

Warnings about the dangers of austerity have been growing louder in recent months, even from sources that conventionally applaud austerity regimes. In October, the International Monetary Fund issued a report concluding that global policymakers had dramatically underestimated the significance of government spending during a recession. As a result, lawmakers expecting modest drags from austerity instead saw their economies plunge back into a devastating recession. The United Kingdom, where unemployment now stands at 7.7 percent, has experienced a triple-dip recession. In Spain and Greece, unemployment is over 25 percent, with savage humanitarian consequences: HIV infections in Greece are up by over 1,500 percent since the austerity campaign began in 2010.
And Klein concludes his analysis on the situation in the US this way:
So yes, the government is hurting the recovery. But it's not because of deficits or uncertainty, or at least, it's hard to find evidence for either theory. The real, provable damage the government has done to economic growth in recent years has been in cutting back on spending and investment since 2010.
Surprisingly Weak U.S. GDP Has Silver Linings
By Martin Hutchinson
Reuters, January 30, 2013
The surprisingly weak U.S. economic output in the fourth quarter contains more than a few silver linings. The nation's GDP declined at an annualized rate of 0.1 percent, defying expectations of at least 1 percent growth, according to economists polled by Thomson Reuters. Lower government spending accounted for a big slug of the contraction while private consumption and income improved. There's really little cause for alarm.
Tighter budgets in state capitals and Washington, especially in the Defense Department where outlays fell by $11 billion, excised 1.3 percentage points of growth. So too did inventories, whose growth probably slowed over fears of a looming fiscal crisis. Had both those items been flat, U.S. GDP would have grown at an annualized rate of 2.5 percent instead. Excluding the same factors in the previous quarter would have meant the economy grew by 1.6 percent.
Consumers, who account for the biggest portion of the country's economic activity, showed signs of strength, too. Personal consumption increased at a 2.2 percent rate, slightly faster than in the previous quarter. Investment in housing, factories and equipment also rebounded from a slack July-September period to a growth rate of 9.7 percent from October-December. That all squares with the quarter's relatively robust employment data and suggests a modest U.S. recovery remains on track.
What's more, real disposable personal income was particularly strong. The annualized increase of 6.8 percent was among the fastest rates of growth since before the crisis struck. By outpacing consumption, it helped elevate the savings rate, to 4.7 percent, even if the sharp end-of-year jump in dividend payouts to get ahead of tax hikes probably will cause this trajectory to reverse in the first three months of 2013.
The headline GDP figure may nevertheless have the power to reinforce the Federal Reserve's bias toward low rates and $85 billion of monthly bond buying. That would be an unfortunate result given the underlying trends. The decline in public spending is unlikely to remain so sharp. And inventories are bound to start building anew. Most signs still point to at least a stabilizing economy, one that can sustain itself without so much of the central bank's helping hand.